Spacious and comfortable Japanese private inn
We have only one-party reservation, 6persons and feel the lifestyle of Japan 50years ago, Showa period. (Tatami, Hinokiburo(wood bath), Yukata etc.).
Gafukan is the best choice for family or group tour and also, a perfect base of accommodation to access to sea, highlands, Sakura Park, Tsubaki Park, hot springs, diving, fishing, amusement parks and craft works shops (ceramic, glass etc.) It's a numerous sightseeing destination.
Meal
Dinner
Enjoy our Japanese table cooking cuisine, "NABE", "KUSHIAGE", "SASHIMI", "TAKOYAKI", "OSECHI"(Traditional New Year's dishes) etc. Please choice in your booking. Please let us know any non-favorite food or allergy ingredients. Our staff always support you.
Breakfast
Please let us know Western or Japanese style.

Self-cooking
If you want to cook by yourself, you can use free any cooking equipment.
IMPORTANT
If you have allergies or any other reason of food requests, please make your request beforehand. We can arrange meals without particular ingredients such as meat or chicken as per your request, however we cannot exclude all ingredients with gluten and if we can't your request, we will back to you about it as soon as possible.
Sample picture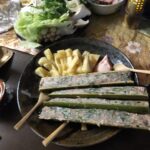 Facility
We have a cypass bath called HINOKIBURO offers relief for fatigue, neuralgia, cold sensitivity and other ailments. Relaxing in a spacious bathtub soothes away daily fatigue and stress. Bath towels and washing towel from your room.
If you are interested in Spa type of ONSEN
, we will bring you before starting dinner. Around Ito area there are many hot springs, it is one of popular hot springs in Japan. You can enjoy two different types of communal baths. One is Roten-buro, open-air bath and another is indoor bath. Onsen also offers relief for neuralgia, muscle pain, chronic skin disease, chronic female ailments and more.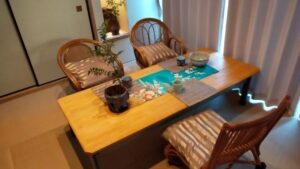 After bathing, complimentary refreshments will be good for cool down. Relax and enjoy some quality time with beer or sake until starting dinner. Also, you can choice of nighty clothes Kimono/Yukata/Samue if you like. If you want to touch upon Japanese culture more, please try to take Kimono/Yukata/Samue. Yukata or Samue (one of the traditional working clothes) is worn after your nightly bath and in the evenings.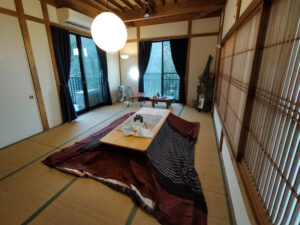 Room is traditional Japanese futon style, and it is designed so that you don't have to lift a finger during your stay.
In winter season, we will be ready to set KOTATSU which is a traditional Japanese heating appliance. It is a low table with a thick blanket laid over it, and an upper tabletop which holds the blanket in place. The inside of the kotatsu is heated. Our kotatsu called "Hori-gotatsu" gives a feel sitting on chair without any stress.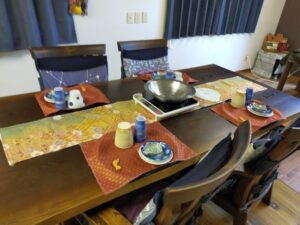 Let's start dinner!
We have already set your dinner set up to your request. Our staff is always support while dinner. Nabe is a cuisine that you put assorted ingredients in pot and cook all at the same time. Please enjoy our Japanese traditional NABE or others by your pace. If you are not familiar to use chop stick, we can provide knife and folk too.
In some cases, it will be not good weather, we can provide Mahjong, Boad games, DVD theater set.
If you are interested in Japanese traditional tea, we can be ready to provide the simple traditional tea. (non-formal way with taking chair)
Accommodation plans
SELF-COOKING PLAN 7,150JPY/person (tax included)

MEAL-PLAN 7,150JPY/person +MEAL (2,500JPY/person~) (tax included)
GROUP/FAMILY discount are available. Over 4 persons will be applied 25,000JPY for stay without meal(option).
JPY cash only, thank you.
IMPORTANT
We haven't any drinks however we can help to go supermarket, liquor shop etc. Also, convenience store is close to us in 3 min on foot.

Pets are only accepted if they are potty trained.

Cashless payment is not possible, only JPY cash.
Access
For Railway use (Ito station)
We have free-shuttle service between Gafukan and Ito-staion. Please let us know when booking.
For Car use
Please set your navigation system in 823-57, yoshida ito,Shizuoka. If you lost your way, please come to Familymart Ippekiko. We can pick up you in Familymart Ippekiko.
please click for access map.
Booking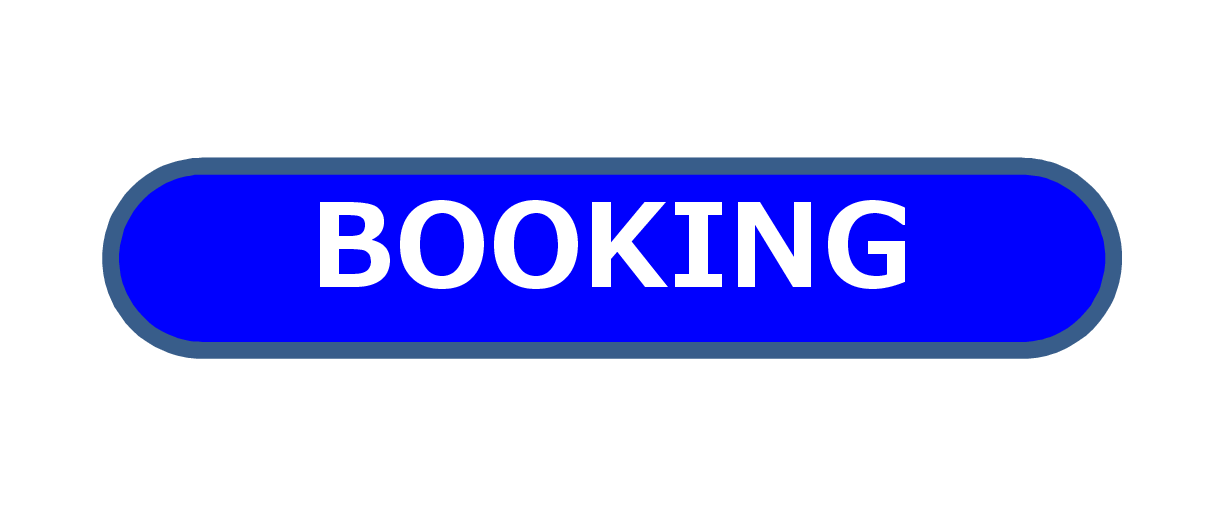 please click to go for booking sheet
Sightseeing
recommendation